Authorized Hutchison Incorporated HW Brand dealers receive an added benefit by working with us since we are a manufacturing company as well as a distribution company. One such benefit is seamless service in the transition between the product being manufactured and the product being delivered to you.
Another benefit for our HW Brand dealers is that they are able to select from the full Hutchison HW Brand product line to meet their needs for either a mixed load or a partial load of HW Brand product allowing the dealer to control their inventory and manage their cash flow in an efficient manner.
Hutchison Incorporated stock Pride of the Farm, Brower and Super Bowl waters. We also stock a supply of parts such as replacement valves, flotation devises, complete valve assemblies and the 2-piece plug valves for the Superbowl Waterer. This makes it easy for Hutchison HW Brand dealers to fill the needs of their customers.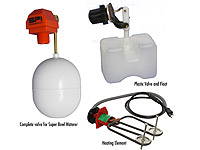 Livestock & Equine Equipment
Hutchison Incorporated manufactures and maintains a full supply of parts and hardware for our gates and panels such as the hinges, c-clamps, wall brackets, 2-way and 3-way connectors, drop pins, panel connectors and more.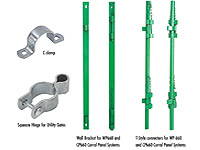 Lumber & Building Products Services
Hutchison Lumber provides a variety of special services from our lumber remanufacturing business such as:

Hutchison Lumber operates a 12" band saw that can re-saw lumber. We make pallet lumber, high-quality rough (S1S2E) boards, rough timbers, hardwood cants, industrial blocking, and the list goes on. Any lumber item in our yard can be resized to your specifications. This is a versatile machine that does quality work. We can re-saw a truckload of 6x6 timbers into 3x3 industrial blocks to be used for packaging material. We have the ability to handle truckload orders, or small jobs of a few units.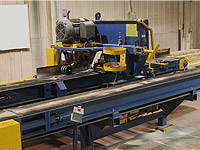 Dunnage is a big industry! Just look under any bundle of steel, lumber, crating, or bulk commodity and you will probably find grooved dunnage. We groove just about any size of lumber for your industrial needs. Our Baker banding groove machine spits out 6,000' of grooved lumber per hour.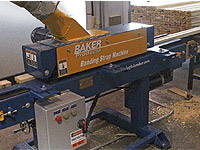 We can rip lumber to just the width you need. We manufacture furring strips out of any grade of lumber available. How about that job where you need 2x3's or 2x5's or any other width imaginable? We offer small random length orders of strips, or truckloads of industrial stock.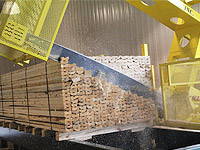 Our high-production lumber package saw is used for trimming entire bundles of wood in a single pass. This highly accurate chop saw can trim to 1/16" precision leaving a smooth clean end cut on the lumber. On a typical production day, this saw can make 60 cuts, and produces over 18,000 pieces of precut lumber products for industry, pole buildings, and many other projects. We also offer Trimming and Grading.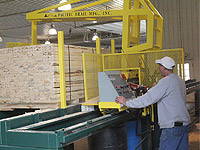 Hutchison Transportation operates with a modern well-maintained fleet of Class 8 Tractors, predominately Freightliner with Cummins ISX engines. 48' x 102" trailers mostly flat bed but with a mix of 53' dry vans and Conestoga's. Our primary function is delivery service to our dealer accounts and support for our distribution companies and manufacturing plants.All of our Over the Road and local delivery trucks are company owned and operated. Each unit is equipped with the QUALCOMM system.Hutchison Transportation maintains fully equipped truck maintenance shops at our locations in Adams City, CO and Grinnell IA.